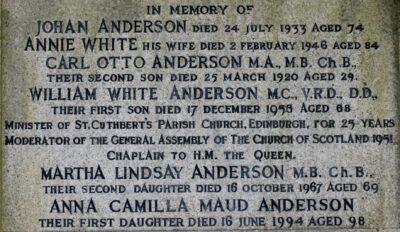 Name on Memorial: ANDERSON, CARL OTTO
Name: Carl Otto Anderson M.A., M.B. Ch.B.
Age: 29
Service No: Unknown
Rank: Lieutenant
Regiment/Service: Royal Army Medical Corps
Died: 25/03/1920
Theatre of Death: Home (Bellahouston Hospital, Glasgow)
Cause of Death: Illness
Cemetery/Memorial: BO'NESS CEMETERY
Additional Info:
Carl Otto Anderson's father Johan Anderson was a Shipping Clerk from Sweden. The family lived at Jane Terrace, Bo'ness. Carl Otto Anderson died after leaving the RAMC and some time after the armistice. It has recently been established by The Scottish Military Research Group Commemorations Project that he died just before he was to relinquish his commission on 01.04.20 He has now been put forward to be included in the CWGC Roll of Honour [updated 15/02/21].
Show map points
Uses surname: shows map points with that name