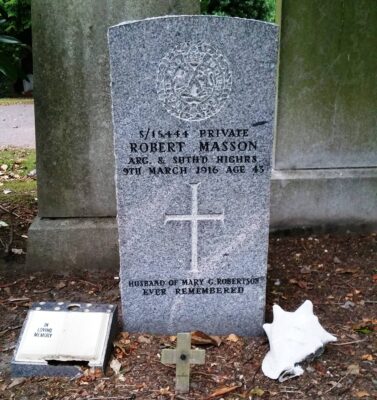 Name on Memorial: MASSON, ROBERT
Name: Robert Masson
Age: 43
Service No: S/15344 (S/15444 CWGC)
Rank: Private
Regiment/Service: Argyll and Sutherland Highlanders, 15th Bn.
Awards: –
Died: 09/03/1916
Theatre of Death: Home
Cause of Death: Died
Cemetery / Memorial: BO'NESS CEMETERY
Grave / Panel Ref: B. 90
Additional Information: Born in Fetteresso, Kincardineshire. Lived in Bo'ness. Husband of Mary G. Robertson Masson, of Invercowie Cottage, Braehead, Bo'ness.
Robert enlisted in Bo'ness on 2nd December 1915.
He was discharged from his battalion suffering from asthma on 20th December 1915.
Robert was admitted to No.2 Scottish General Hospital, Edinburgh by his GP (Dr Cross, Linlithgow) and he died there on 9/3/16.
Although discharged from the army he had never received his discharge papers and as a result the army regarded him as still being a soldier and so paid the funeral expenses.
Robert's occupation was a Spirit Dealer and he owned The Crown Inn in Grangepans.
Show map points
Uses surname: shows map points with that name