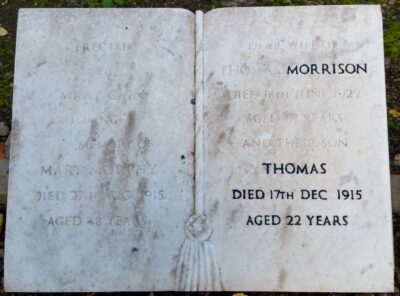 Name on Memorial: MORRISON, THOMAS
Name: Thomas Morrison
Age: 22
Service No: 2775
Rank: Private
Regiment/Service: Royal Scots 5th Btn.
Awards:
Died: 17/12/1915
Theatre of Death: Home
Cause of Death: Illness (Tuberculosis)
Cemetery/Memorial: Bo'ness Cemetery
Grave/Panel Ref: B. 239.
Additional Info:
Discharged 1st October, 1915 – cause Phthisis (Tuberculosis). Died 17th December, 1915 at 88 Castleloan, Bo'ness.
Son of Thomas and the late Mary Morrison (m.s. Murphy) of 88 Castleloan Bo'ness, West Lothian.
Born Galgorm, Ireland, 25th Nov 1892.
Occupation: Miner
Although Thomas Morrison appears on the Bo'ness War Memorial, he was until very recently NOT commemorated by CWGC, even though he fitted their category two criteria, i.e. – "personnel who had been discharged from or retired from the military before their deaths during 4th August 1914 to 31st August 1921 of an injury or illness caused by or exacerbated by their service during the same qualifying period".
These casualties are called "non-comms".
Work by Mark Duffy of the Scottish Military Research Group, physically looking through the Registers of Soldier's Effects, discovered information about Thomas and a case was submitted to CWGC. They accepted the case that, according to his medical discharge papers, his condition had been aggravated by his service, and he was added to CWGC in September 2016.
Show map points
Uses surname: shows map points with that name